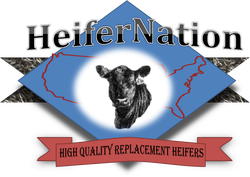 Why PI test negative?

Bovine viral diarrhea virus (BVD) is known to cause immune suppression, respiratory disease, infertility and fetal infection. Cows exposed BVD during early pregnancy can experience abortion or the birth of persistently infected (PI) calves. PI calves can survive well past weaning spreading virus to the rest of the herd causing more abortions, weak calves, and empty cows.

First, you don't want to bring a PI heifer into a clean herd

All Heifer Nation cattle are proven PI test negative before entering the program.

If you are adding PI test negative heifers to a herd with lower-than-expected pregnancy rates, abortions, low birth weight calves and poor calf health; if you're seeing calf loss between birth and weaning; that's a real indication that perhaps you have BVD in your herd. It's also a strong signal that some diagnostics are in order.


If you get a positive on a calf, understand that you need to get that calf and its dam away from the rest of the herd, because that calf is going to be spreading virus.

We recommend that you test and quarantine any new cattle that come onto your place for 21 days, unless they are verified as having tested negative for BVD.

Finally, make sure your vaccination program is in order, particularly with your replacement heifers. We utilize monified-live vaccine at 45 days prior to breeding. If you vaccinate at home after the bulls have been turned out, it's important to use an MLV product that's labeled for use in pregnant cows. And don't forget to vaccinate your bulls as well.


---
---
---
Please contact us with any questions.

---
Cattle For Sale by David, LLC has been commissioned to sell
these high quality,
unique replacement heifers.